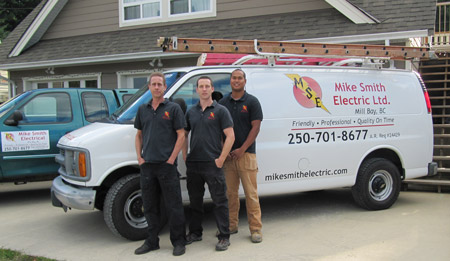 When you choose to work with Mike Smith Electric Ltd, you are choosing to work with a certified journeyman electrician who will offer the best solution for your project at a competitive price.
Why else should you choose Mike Smith Electric Ltd?
We take the time to discuss and understand your needs, and will design an installation with your requirements and budget in mind.
We care greatly about your satisfaction and will always ensure you are happy with our work.
We are bonded, licensed and insured.
We stay up to date with the latest electrical codes, materials and technology in the trade in order to serve you better.
We are highly skilled, well groomed and always professional.
We strive to be the best in our field.
We are a local business and live in our service area. We will be here now and in the future, whenever assistance is needed.
What our clients have to say...
As a local contractor I have worked with Mike Smith on many projects from large to small.  I have found Mike to be professional, honest, reliable and informative.  Mike has no problems working collaboratively with other trades and is a pleasure to have on the job, as well as being a positive influence on the job site.   I would not hesitate to recommending Mike for any project.

My name is Perry Dunlop.  I am a General Contractor in Duncan, BC.  I specialize in renovations.  When taking on building projects I have learned to surround myself  with great people when it comes to sub-trades or specialty trades.  I consider Mike smith electrical to be in this category.  Having worked with Mike and his company on several projects, I have found him to be professional, knowledgeable, reliable, honest and very safety conscious.  His pricing is  competitive and his work ethic is beyond reproach.  No matter what size the project has been, Mike Smith electrical has come through for me time after time-year after year-project after project.  Without hesitation I would recommend Mike Smith Electric ltd.

I would like to take this opportunity to say thank-you to you and your crew.  It was an absolute pleasure to deal with you and your staff; your  professionalism and dedication to completing the job on such short notice will be not forgotten by me or my family.  Again, my deepest gratitude.